Article published on 10 June 2015
B.C. Government Scraps B.C. Ferries Gambling Plan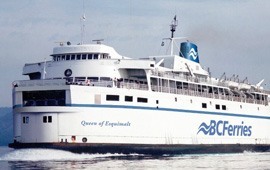 The Maple Gambling image gallery control requires that you have the Flash Player plugin installed and JavaScript enabled in your browser.
Some time ago, it was announced in British Columbia that B.C. Ferries was considering offering slots on board. The offering, while offering entertainment for passengers, was expected to help keep ferry prices stable. The slots would have been offered on ferries traveling between Victoria and Metro Vancouver. After having done extensive research, the B.C. government has scrapped the B.C. Ferries gambling plan.
B.C. Ferries Gambling Would Lose Money
The Transportation Minister, Todd Stone, has announced that the proposal to offer slots on board the B.C. Ferries is no longer on the table. The reason given for this is that research has shown that not only would the gaming lack profits, it would in fact run at a loss. Minister Stone had first floated the idea in 2013.
An internal analysis taking all costs into account showed that the potential loss to B.C. Ferries could reach as much as $240.563 per year. Things that were taken into account when calculating the potential profits or losses include the necessity to have increased staffing, and the costs of the equipment, including maintenance.
Minister Stone said: "There's a whole wide range of questions raised as a result of this concept, but fundamentally the financial analysis determined this would not be a net new revenue generator for B.C. Ferries."
The report issued by the B.C. Lottery Corporation noted a number of problems that hinged on logistics, and legislation when offering gambling on the B.C. Ferries Spirit Class vessels. Part of the problem included the lack of Internet connectivity on the route, which would mean that there could be no real time updates between the games and servers.
Each year, there would be a number of upgrades needed, including uninterruptible power supplies, backup generators, responsible gambling education booths, security stations, and a 24-hour security camera system. These costs could reach as much as $1.7 million each year.
Costs and Risks Outweigh Gains
In summary, the report noted: "Ultimately, the costs, risks and procedural changes required to operate [gaming devices] on a B.C. Ferries vessel outweigh the financial gains of this business opportunity."
Since the time that the original proposal was made in 2013, B.C. Ferries has managed to regain financial stability. While there is still likely to be a raise in fares, the B.C. Ferry Commissioner has proposed yearly increases over the next four years that will be capped at 1.9% per year.