Article published on 13 April 2012
$30m Lotto Max Win Triggers Sales Frenzy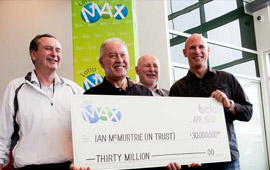 The Maple Gambling image gallery control requires that you have the Flash Player plugin installed and JavaScript enabled in your browser.
Four co-workers from Abbotsford, BC shared a whopping $30 million in the last Lotto Max jackpot draw, which has spawned a massive Lotto Max ticket sales frenzy across Canada ahead of tonight's $10 million draw.
Every Friday, without fail, the four would purchase tickets for that night's Lotto Max draw in the hope of one day hitting the big one, but little did they know what a great gift the Easter bunny would eventually bestow on them.
Strangely, on the day of the fateful draw, the group nearly missed out on the big win when Ian McMurtrie thought that it was Saturday and he had forgotten to buy the weekly tickets. When he realized his mistake, he drove on down to the Otter Co-op to buy four $5 tickets - their regular purchase.
The Winning Ticket Was Sold in Abbotsford
The next morning, when the Lotto Max results were announced, his wife heard on the news that the winning ticket had been sold in Abbotsford.
McMurtrie tried to check the seven numbers but couldn't get past the first five without collapsing emotionally. It was only after his wife checked all seven numbers over and over again, did he dare call his co-workers and tell them the good news.
It took a lot of convincing to get Joe Scully to finally believe that he had won the $30 million with the other three.
"He didn't believe it," recalled McMurtrie. "He hung up on us and thought we were just trying to get him to come over to watch golf and drink beer."
It was only after his colleagues emailed a picture of the winning ticket that Scully came around and joined in the champagne celebration.
However, it was a long Easter weekend wait for the four, who finally turned up at the crack of dawn at BCLC's offices on Tuesday morning to claim their prize.
Lotto Max Sales Increase due to Win
The well publicized tale of the Abbotsford $30 Million Lotto Max win has triggered an increase in lottery ticket sales ahead of tonight's draw, which will see a $10 million prize up for grabs.
If there is no winner this week, the Lotto Max jackpot will continue to grow and once it reaches $50 million, it will go into MaxMillions mode, creating supplemental $1 million prizes.
The nationwide lottery game costs $5 to play, for which players receive three selections of seven numbers ranging from one through to 49. Players get to choose their first selection of seven numbers, with Quick Pick providing for the other two selections. Each pick is good for the Main Jackpot, each prize category and any MaxMillions if relevant.