Article published on 30 April 2012
Kahnawake Says No to New Casino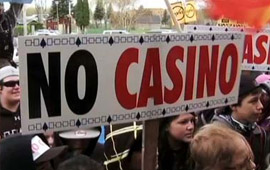 The Maple Gambling image gallery control requires that you have the Flash Player plugin installed and JavaScript enabled in your browser.
The Kahnawake community, south of Montreal, held a referendum on the weekend regarding the construction of a new casino in the reserve.
Despite the fact that analysts predicted that a new casino could yield annual profits of $50 million, and that the 8,000 or so residents could see up to $1,000 per person per year in cash dividends, Kahnawake voted against the casino in an extremely close referendum.
Saturday night's vote saw 50.7% of the residents voting against, and 49.3% voting in favor. A total of 1688 people voted, meaning that a mere 24 votes separated the pro-casino camp from victory.
This was the third referendum held in Kahnawake regarding the construction of a casino in the past 18 years, with both previous votes seeing only marginal victories for the nay-sayers.
Ten out of eleven band council chiefs, including Kahnawake Grand Chief Mike Delisle Jnr. had been promoting the idea of a new casino in Kahnawake. Their main objective was to make the region less dependent on funds from federal and provincial governments.
"We're 96% dependent right now," said Delisle.
Delisle's plans included using profits from a new casino to service Kahnawake's residents as the federal government continues to cut back on health and education services.
"The revenue will be the springboard Kahnawake needs to continue to establish the institutions of our proud community and to develop other economic, cultural and social opportunities that we strive for as an independent community," he said.
Kahnawake Youth Against New Casino
Interestingly, many youth of Kahnawake, those without any voting power, remained staunchly opposed to the idea of a new casino.
Last week, scores of students marched down Highway 132 to protest another referendum on the idea, saying that a casino had the potential of creating drug and gambling problems, and could attract prostitution.
Grand Chief Delisle's attempts to lure residents with personal annual dividends did not pay off. He also came under fire by community members for spending community funds on their Yes campaign and nothing on the No campaign.
Others have called the idea of a casino a "quick fix" and in the end, Kahnawake voted no to a casino.
"It's a lot of money and it's very tempting said local businessman, Jeremiah Johnson. "But it's shortsighted. It's real easy to open a casino because everyone's doing it. But we don't need revenue. We need jobs. Something we can build on."