Article published on 27 May 2014
Jackpot Capital Casino Summer Sale Promo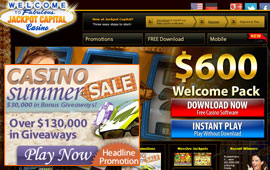 The Maple Gambling image gallery control requires that you have the Flash Player plugin installed and JavaScript enabled in your browser.
For those players who are looking for some great online casino bonuses, look no further than Jackpot Capital's Casino Summer Sale Promotion.
The Casino Summer Sale promotion began earlier this month and will be continuing up until June 16th, 2014.
Summer Sale Promotion Weekly Prizes
In the Summer Sale Promotion at Jackpot Capital Casino, prizes come to a total of more than $130,000. For those who reach the top of the leader boards each week, there is $30,000 in haute giveaways each Monday of the promotion. Players will still continue to climb up the scoreboard as they play. Each Friday, 50 players will find a special bonus in their bonus bags, the Sizzling Steals bonus. Players who win a share of the Sizzling Steals will be winning a share of more than $12,000 in prizes. This additional cash bonus will help players to advance in the game and could help them to go further up the scoreboard.
Each Friday, when the 50 lucky players each receive a portion of the Sizzling Steals bonus, 40 players who appear on the Live Scoreboard will each receive a surprise bonus. Ten lucky players who did not make it onto the Live Scoreboard will also be recipients of a portion of the Sizzling Steals bonuses. The Sizzling Steals bonuses are worth between $20 and $150.
Weekly Deposit Bonuses at Jackpot Capital
Each week of the Jackpot Capital Casino Summer Sale Promotion, players will find a weekly bonus available on the casino's website. This special Casino Summer Sale bonus can be used to help players more ahead during the time of the promotion. Up until May 28th, for example, the special bonus being offered is a 50% deposit bonus up to a maximum amount of $100. Players need to use the special coupon code shown on the site's Promotions page, and the bonus needs to be played through 30 times.
Playing in the Casino Summer Sale Promotion
In order to join in with the Casino Summer Sale promotion at Jackpot Capital Casino, players need to simply make deposits and player their favourite games. As players play more, they will earn points and climb higher on the scoreboard. The more points that are earned each week will take players to a higher rank, and greater amounts of bonus cash can be earned the more points that the player has earned.
In order to qualify to play in this promotion, players need to make a deposit of at least $100 each week of the promotion, and need to earn only five scoreboard points each week. Points are earned both from making deposits and playing in the casino. Mobile casino players receive double points for each $100 of bets that are placed.
Jackpot Capital Casino is operated on Realtime Gaming (RTG) casino software. Players can play in the Download, Flash or instant play casino, and in the mobile casino.